A story of how the royal proclamation recognizing the Expulsion of the Acadians came about.
This was originally published as a Twitter thread. View here.
July 28, is formally known as "A Day of Commemoration of the Great Upheaval (Le Grand Dérangement)." It was so designated by Queen Elizabeth II in The Royal Proclamation of 2003. If you are not Acadian, you may not have heard of it. The backstory is WILD.
The expulsion of the Acadians from Nova Scotia and New Brunswick began in 1755. Some travelled to Europe or other parts of Canada. Lots headed down to the US. Some apparently settled in Philadelphia. Maps here: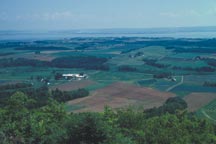 Acadian Deportation, Migration, and Resettlement – Canadian-American Center – University of Maine…https://umaine.edu/canam/publications/st-croix/acadian-deportation-migration-resettlement/
According to an unattributed statement on Wikipedia, in 1763 a group of Acadian exiles petitioned King George III. King George, in classic imperial monarch style, did not deign to respond. If only they'd had Twitter! #HeyGeorge#AcadiansNeedAnswers#RespondezVousRoi
Apparently the petition entered a magical royal limbo, for 137 years. Like, not answering an email right away is one thing, but that is extreme. Anyway, we fast forward to 1990. Enter Warren Perrin. He is a lawyer and professor, but more importantly for our story, he is *un fier acadien*, and a dogged researcher.
In 1988, he began "an intense historical study" into the Expulsion. acadianmuseum.com/biography.html
By 1990, he was ready to present a petition to the Queen. Now, remember George? Apparently because he never responded, Warren was able to reignite that petition, which probably moved it on up the line, made it a rush… #OuEstMaPetition? 
You think some administrator is checking the dates on the Royal Trello, and they're like, oooh, we just got a reminder of a task overdue… by 137 years? Whoopsy.
So, naturally, the Queen leapt upon it, since it was many many many years since France and England had been at war, and so, the proclamation was issued…
…
…
13 years later. This is Warren with the petition. This is from a news org in Lafayette that did a great profile of him: discoverlafayette.net/podcast/warren…
Warren Perrin, Historian and Preservationist of Acadian Culture – Discover Lafayette …https://discoverlafayette.net/podcast/warren-perrin-historian-preservationist-acadian-culture
Side note: the Lafayette story includes the tidbit that Warren was a champion weightlifter in college:
"He was a member of the UL – Lafayette (then known as Southwestern Louisiana Institute) weightlifting team which won eight national championships between 1957 and 1971". 
"From the 1967 L'Acadien: Jimmy Reinhardt demonstrate a squat clean. Watching him were, from left, John Stelly, John Arceneaux, Warren Perrin, George Weatherford, Randy Peloquin and Eddie Ortego." facebook.com/officialullafa…
The article goes on to say a documentary film was being shot that traced the "inspirational underdog story of this exceptional team and its achievements." The article is from 2018. The movie now exists!
The Ragin 13 – IMDb The Ragin 13: Directed by Nicholas Campbell. From the hardscrabble rural communities of Cajun country in south Louisiana to a Japanese internment camp, The Ragin 13 is the story of a group of athletes…https://www.imdb.com/title/tt7747456/
So, on July 28, remember that had King George not expelled the Acadians we would be in a different province. POSSIBLY a physically stronger one.
Enjoy some Rappie pie, and hug a (vaxxed) Acadian.
Recipe from Acadian chef Simon Thibault: foodnetwork.ca/comfort-food/b…
Picture at the top is from Pubnico's Le Village historique acadien de la Nouvelle-Écosse, to which you should definitely go. When there, go as well to the community museum and archive (MUSEE DES ACADIENS DES PUBNICOS) up the street. Absolutely magical.
Please share your favourite Acadian places!
One more note: In 2024, le congrès mondial acadien (held every 5 years) will come to Southwest Nova Scotia! #clargyle